Barbara Ann "B.A."  Walters first took to the skies with her stunt pilot father in the open air cockpit of his plane.  She then took the world by storm as a stewardess for Pan American World Airways in a 37-year career that spanned aircraft from the Convair 240 to the Boeing 747.  independent,  adventurous and  fearless,  B.A. only once admitted to being somewhat  "apprehensive" about working near the door of the Boeing  Straocruiser after a tragedy in which a passenger was blown out the door of the plane.  For a look at  37 Years of Airborne Adventure by Barbara Ann "B.A." Walters.  Click here!   
Thanks to Clipper Crew member Terry Foster for a great story and to B.A. Walters for taking the time to share it all with us.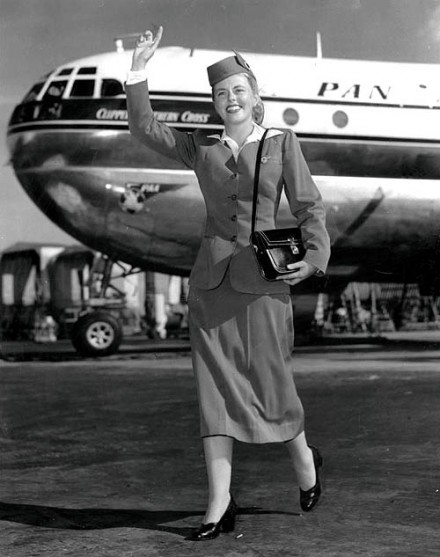 Clipper Crew wants to thank everyone for the many wonderful emails, ideas and stories that you send us!   We are honored that some of you have even sent us precious Pan Am memories and items.  We would like to encourage anyone with Pan Am Memorabilia to also consider donating to the University of Miami, Richter Library, Special Collections.  Their email address is  asc.library@miami.edu (put Pan Am Archives in the subject line).   To access their web site click here.  They've done an outstanding job with Pan Am's historical records and their archive is open to the public.
We have new "vintage" photos coming from our surprise interview which will publish on April 10th 2015 with yet another fabulous Pan Am Stewardess from the 40s.   She is 90 years young, still lives independently, and line dances each week.  She recently ditched her land line and bought a smart phone and is now texting!   We are so happy she returned our call and we welcome her to Clipper Crew.
She and the other stewardesses interviewed inspired us so much that Jocelyne and I had to visit Udvar Hazy  Air and Space Museum just to stand by the Boeing Stratocruiser.  What a beauty and what an honor for those who worked on that plane.
If you are new to our site please look at the drop down menu under Adventure Called.  You must read Dispatches from Doris and  Memoirs from Lynn Lawrence Oberle, all of them, from Lunch with Lynn to Parts I through IV of her Pan Am Memoir.  Click here for our recent tribute to Tenerife or use the link on the menu on the left side of our home page.
Please "like" us on Facebook and follow us on Twitter!  If you are a former Pan American flight attendant join us today, there are no dues to pay and no forms to fill out.  Click here.
Giselle Foresman