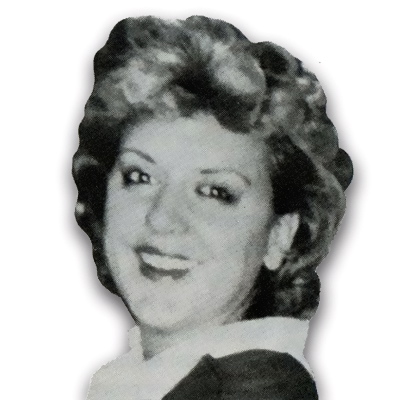 Flight Attendant – Age 40
Paris, France – U.S. Citizen
Noëlle Lydie Berti-Campbell was a former Miss France and possessed a quiet and unique understanding of people that easily gained the respect of everyone with whom she made contact. Before joining Pan Am, Noëlle was a model and sales assistant with Van Cleef & Arpels in New York. She enjoyed a close relationship with her mother and traveled extensively with her. Noëlle's career with Pan Am began in 1970, and she was based in Chicago and New York before joining the London base in 1975. She was single and is survived by her mother, Jacqueline Campbell.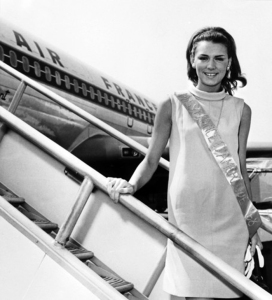 Twenty-one year old Noëlle Lydie Berti, "Miss France of America" for 1968 as a young French woman residing in the United States. She returned to France for a visit of several days where she participated in different organized events in her honor. Here she is descending from an Air France Boeing 707 at Orly Airport in Paris on July 30, 1968.
Remembrances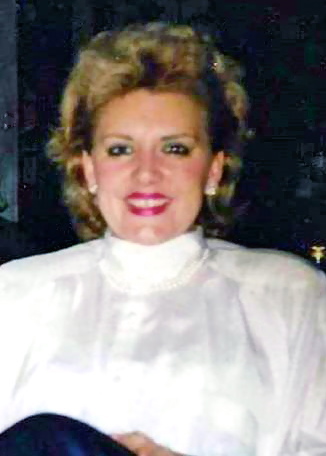 Agnes Asperlag: I knew the moment I met her, that she was special.  I had just ransfered to London base and was still trying to find my way around and find friends.  I commuted from Amsterdam and bid the long trips, which meant London-New Delhi at that time, which was 1975.
Noëlle and I met on a London-Delhi trip and spent our layoer in New Delhi together. She showed me all the shopping addresses, restaurants, beauty salon in the Ashoka Hotel, rea together, met for drinks, followed by dinner, we had a wonderful time. 
She was beautiful, charming, very kind, fun to be with, caring, she had a great sense of humor, and was so full of life.  Everybody loved her, through her, I met many crew members, whom she was friends with and they now became my friends as well.  At the end of the trip, while we were walking through Customs, she asked me, if I would be interested in Team-Bidding, and of course I was.  She also invited me to come and stay at her commuter pad in Hounslow West, she had a bedroom there with use of the kitchen and bathroom.  There was only one bed in the commuter room, but we bought a camping-bed and her kindness to me showed, as she said to me, we will take turns on the camping bed.  And we did.
And that was the beginning of a long friendship.
There was an occasion, where her charm showed, while dealing with British customs.  It still puts a smile on my face.
We had a line together, with a JFK overnight, one day off, which we spent in London of course and the next day we reported for a 12 day trip.  Flight 002/001 all the way to Hong Kong with a two day layover in Hong Kong.  Layovers in Frankfurt, Teheran, New Delhi, Bangkok and Hong Kong.  We were ecstatic.
In Hong Kong we did all the fun things all crew members did there, we started of course with Breakfast at the Peninsula Hotel for orange pancakes, after which she showed me all the shops and what to shop for.
I helped her to shop for a new stereo with large speakers and I wondered how we would ever get them to London, but she explained to me, she would have it sent from Frankfurt directly to Paris.
After arriving at Heathrow, we went through Customs and the Custom officer had a go at me for having a gift package from Estee Lauder, which I had not declared, simply because it was a gift and I had not bought it, it was a free gift, while purchasing an Estee Lauder lipstick, something I was carrying with me, since we did not go home after our New York trip.  The Custom Officer was about to throw me in jail, or so he said.
Noëlle walked in and showed her true charm, all of a sudden the Custom Officer was all smiles and asked her, if she had anything to declare, she said with the sweetest voice, oh no, I just have a little Buddha statue.
It was a big statue, which she had purchased on our New Delhi layover.  She continued to smile and said but I am taking it to Paris, he smiled and told her it was OK and she was free to go.  Then she turned to me and said Agnes, do you want me to stay, I said no, no.  I will be okay, please go, go before he changes his mind. Eventually he let me go through and I was able to catch the last flight to Amsterdam.  Her kindness showed again, when she called me in the evening at my house to inquire, if I had gone through Customs OK.

After five years flying together, I left the London Base for New York and lived in San Juan, Puerto Rico, where she visited me several times and we had a great time together, while we traveled all over the island.

I visited her many times In Paris, on my Paris layovers from JFK and even though we had not seen each other in a while, we connected again immediately, as if we had seen each other the day before.
I still miss her so very much.
Barrie Fewster Noëlle always gave me a box of Bon Bons from Paris at Christmas and that night she had left them in her mail box for me to collect as I was not on duty. She will always be in my thoughts, can't believe it's been 24 years. January 27, 2013