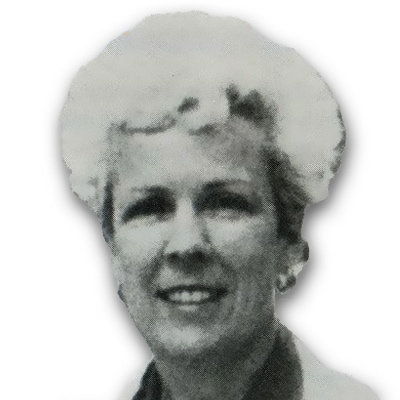 Senior Purser – Age  51
 Twickenham, England – UK Citizen
Mary Geraldine Murphy was known by her friends as "Gerry." Aside from her wealth of job knowledge and dedication to superior inflight service, Gerry was best known for her kind and unselfish ability to listen to others. Holding an honors degree in grief counseling, she earned a fellowship to study counseling and had recently graduated from the open University of London with a degree in Social Psychology. Gerry's career with Pan Am began in 1963. She flew out of New York, San Francisco, and Washington bases prior to becoming one of the founding members of the London base in 1972. She was an invaluable asset to the base for her experience on the line in helping her flying partners. Gerry was co-chair of the professional standards committee in London. She was single and is survived by her parents, Robert and Margaret Murphy; three sisters, Miaread, Bernadette, and Patricia; and two brothers, Joseph and Robert.
Remembrances
Muffy Harmar: the crew member I knew best was Gerry Murphy. She was the Senior Purser on that flight and was working in First Class.  We had trained together as In-Flight Service Director in 1973.  She was Irish and had a number of siblings.  She persuaded me to start an Open University Degree one year after she started, and because of that I went on to become a Solicitor and eventually practice law in Hong Kong.  She was religious and had trained to be a counselor.  She was just about to adopt an older child, and would have made a wonderful mother and mentor. I considered Gerry to be one of my best friends.  
After Gerry was killed, and after the memorial services in Lockerbie and London, I traveled up to Lockerbie with one of her sisters.  We planted a small oak tree on a plot of land just above where the nose cone landed (the photograph which is always shown of Flight 103).  Gerry was a very special lady.
Romlee Stoughton: I remember when I was a new hire and I just arrived in London. We were given a very short time to find accommodation and I was at "zero hour" with no place to really call home. I was assigned a trip to Seattle where Gerry was the purser. I remember having a nice conversation with her. She was so dear and kind and exuded such genuine warmth and care. She was interested in how us new hires were adapting to our new environment and career. I'll never forget on the return trip, she said to me, "If you have nowhere to really stay, please feel free to stay at my home until you get your bearings. At least a place to rest your head." Fortunately, I did have a place to temporarily stay but I'll never forget her caring generosity. That meant so much to me for her to say that.  I subsequently flew with Gerry frequently and I did a charter with her once to Shannon. The entire crew got together to enjoy the evening at the famous Bunratty Castle and Gerry took some of us "under her wing." Gerry was always a pleasure to fly with. Calm, patient, kind, caring, and professional. A special lady indeed!             
Susan Gibbs Murphy: Gerry Murphy was the Senior Purser. She was lovely. She'd had the misfortune of being stuck with me when – on my birthday – I had to work the First Class galley for the first time (Miami to London). She was ever so patient. And I didn't think it had gone that badly. Later during the flight, the crew all signed a birthday card for me. Gerry signed it, "Never again in the galley!" Bless her heart.