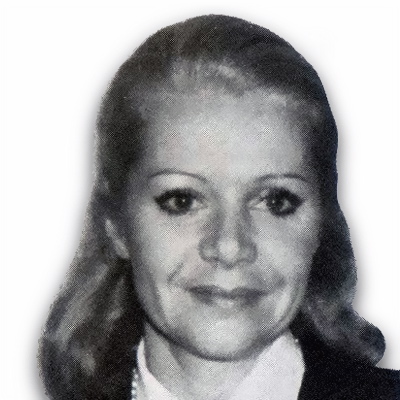 Flight Attendant – Age 44
Croissy-sur-Seine, France – French Citizen
Elizabeth Nichole Avoyone, known as "Babette" was from Croissy-Sur-Seine, France. Babette was "everyone's idea of a chic and charming Frenchwoman." She was born in Calvados on May 5, 1944 and studied in Paris. She loved to travel and entertain at home and it was because she did both with such flair and vitality that she was so good as a flight attendant. She radiated sincerity when showing interest and care for people both professionally and privately. Her genuineness in dealing with others set a fine, professional example for her flying partners. The mother of a five year old, she married her childhood sweetheart, who, at the time of their marriage was a widower with two small children. Babette came to Pan Am on March 2, 1968 and was based in Miami, Seattle, and Washington before becoming one of the founding members of the London base in 1972. She is survived by her husband, Didier Clement; one daughter, Aude (born in 1983); a stepson, Jean-Francois; and a stepdaughter, Sophie.
Remembrances
Muffy Harmar: Babette Avoyne was French and was at the Training School in Miami when I first started.  She had married fairly recently and was commuting from France.  She had just had a baby and had recently returned from maternity leave.  She was an excellent flight attendant and very charming. 
When I telephoned the families of the crew first thing on the 22nd to confirm they had been on the flight I particularly remember speaking to Babette's husband because I had met him previously.  Although my french was fairly fluent, I found it difficult to convey how I truly felt. I later met him at the London base Memorial Service.  I often think about her and what happened to her daughter.  Very sadly, Babette had been working upstairs and her body was found in the nosecone with the three other pilots.  I always think of her when that famous photograph of the nose cone is shown, even today after twenty-six years.