This slideshow requires JavaScript.
Clipper Crew wishes everyone
the joys of family,
the happiness of friends,
and all the warmth of the season!
Peace and prosperity to all in 2018.
A spouse's retirement, starting a new job, managing a company, a move across country and back again, plus the demands of family – we all have busy lives.  Trying to fit in all the things we have to do is hard.  Fitting in all the things we want to do is often impossible!  Clipper Crew has been on the back burner while we three have dealt with combinations of the above.
We are so pleased to be back in time to celebrate Pan Am's 90th Anniversary with new articles featuring two of Pan Am's earliest flight stewards, brothers Mario and Nilo Borges. The Borges Brothers are featured in a photo in the second new piece, "The Million Mile Club" and two photos of Nilo are featured in the first piece "The Borges Brothers".  The single photo of Nilo was given to Clipper Crew by the family with permission to use in our story.
Observant readers and Pan Am history buffs will notice the iconic Pan Am Globe visible behind the five stewards at the top of the photo.  The globe had a circumference of just over 31 feet and was manufactured by Rand McNally for Pan American's Dinner Key Marine Terminal in Miami. Romlee, with his keen artistic eye, selected the feature photo for that page using a vintage Pan American postcard, that also featured the globe, from a personal collection.
The Pan American Historical Foundation has a wonderful story about this "The World According to Trippe."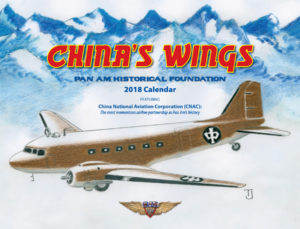 We remind everyone the Pan American Historical Foundation has yet another historical calendar for sale for 2018 entitled China's Wings. Simply click the title to order online.
Information on the preservation of the Pan Am Globe is available at Conservation Solutions.
As always, our goal at Clipper Crew is to help preserve Pan Am's legacy by documenting the role flight attendants played in the history of Pan Am.  If you have a story you would like to share simply email us at clippercrew@outlook.com.  You may be the next featured story!

The Pan American Museum Foundation hosted a gala on November 11, 2017. Honorees in two important categories featured this year were  Pan Am Hero Honorees from Flight 6: Frank Garcia, Flight Engineer, and Len Specia, Stewardess (formerly Mary Ellen Daniels when she flew for Pan Am), as well as Doak Walker, radio operator on the USCG Pontchartrain that rescued passengers and crew from Flight 6 when it ditched in the Pacific Ocean on October 16, 1956.
This year's 90th Anniversary Gala unveiled the newest exhibit called "Stratocruiser: A Luxury Story".  Stratocruiser Honorees were: Barbara Sharfstein, Bronwen Roberts, Madeleine Smith, Marlies Suter, Elisabeth Malcolm, Jack Grainger, Raymond Kenneth Boyce, Dick Blair and John Diestel.  The evening was a great success full of magic as all things Pan Am are.
While we were on hiatus we continued to be surprised at the number of people who contacted us with ideas and comments.  In 2017 new comments were added to the following pages:  Jocelyn Reina, Coffee, Tea or He, Tenerife, Forever Young, The First Pan American Steward, Lockerbie Remembrances, Back to the Future and 37 Years Airborne. 
Items from our prior Home Page have relocated!  Neal Prince's photo and his obituary are now in Crew Rest as Mr. Prince was an honorary member of Clipper Crew.  We continue to enjoy his marvelous work at InterContinental Hotels around the world.
Celebrating Things Pan Am is now in our Retrospectives section.
We hope you enjoy our stories.  We gently remind everyone that our pages and work are copyrighted.  Many hours of work have gone into producing Clipper Crew.  We are always happy to share with others providing proper attribution is given and permission obtained.  Simply email us at clippercrew@outlook.com.
Giselle Foresman
Jocelyne Harding
Romlee Stoughton
Our featured photo on this page is by Dmitri Kessel/TimeLife Pictures/Getty Images . No Copyright Infringement Intended